Campbell County Fire District 1

6844 Four Mile Road

Camp Springs, KY 41059

The district commenced operation on January 1, 2002 and is a combination of three departments - the Silver Grove VFD,  the Camp Springs VFD and the Eastern Campbell FIre District.  Today the department operates out of three stations with a combination of paid and volunteer personnel.

Station 51

5011 Four Mile Road

Silver Grove, KY 41085

Roster: E501, E504, Ambulance 571B, Utility 531, Boat 525

Station 52

3707 Smith Road

California, KY 41007

Roster: E502, Brush 535

Station 53

6844 Four Mile Road

Camp Springs, KY 41059

Roster: E503, Brush 536, WT532, Ambulance 571, Ambulance 572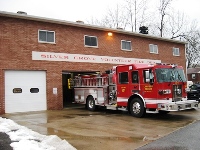 News/Updates:

09/11 - The department has placed into service a new Ford / Horton as Ambulance 571.  The previous Ambulance 571 has been designated as a spare.

2/09 - Brush 536 has been moved to Station 51.  E505 and the old E501/E504 have been retired.  The pumper truck previously assigned to E503 has been renumbered as E504.

08/08 - The 2008 Sutphen pumper for E503 has arrivesd and been placed into service.

02/08 - The dept has a second Sutphen pumper on order for E503 with delivery expected around July.

01/08 - The dept takes delivery of a new 2007 Sutphen pumper for E501, and the 1989 International / S&S previously assigned to E501 has been relocated to Station 53 as E504.